Institute - Case Study 01
The name of the institute in this case study has been deliberately changed. This has been done to maintain our client's privacy and the confidentiality of their placements related data.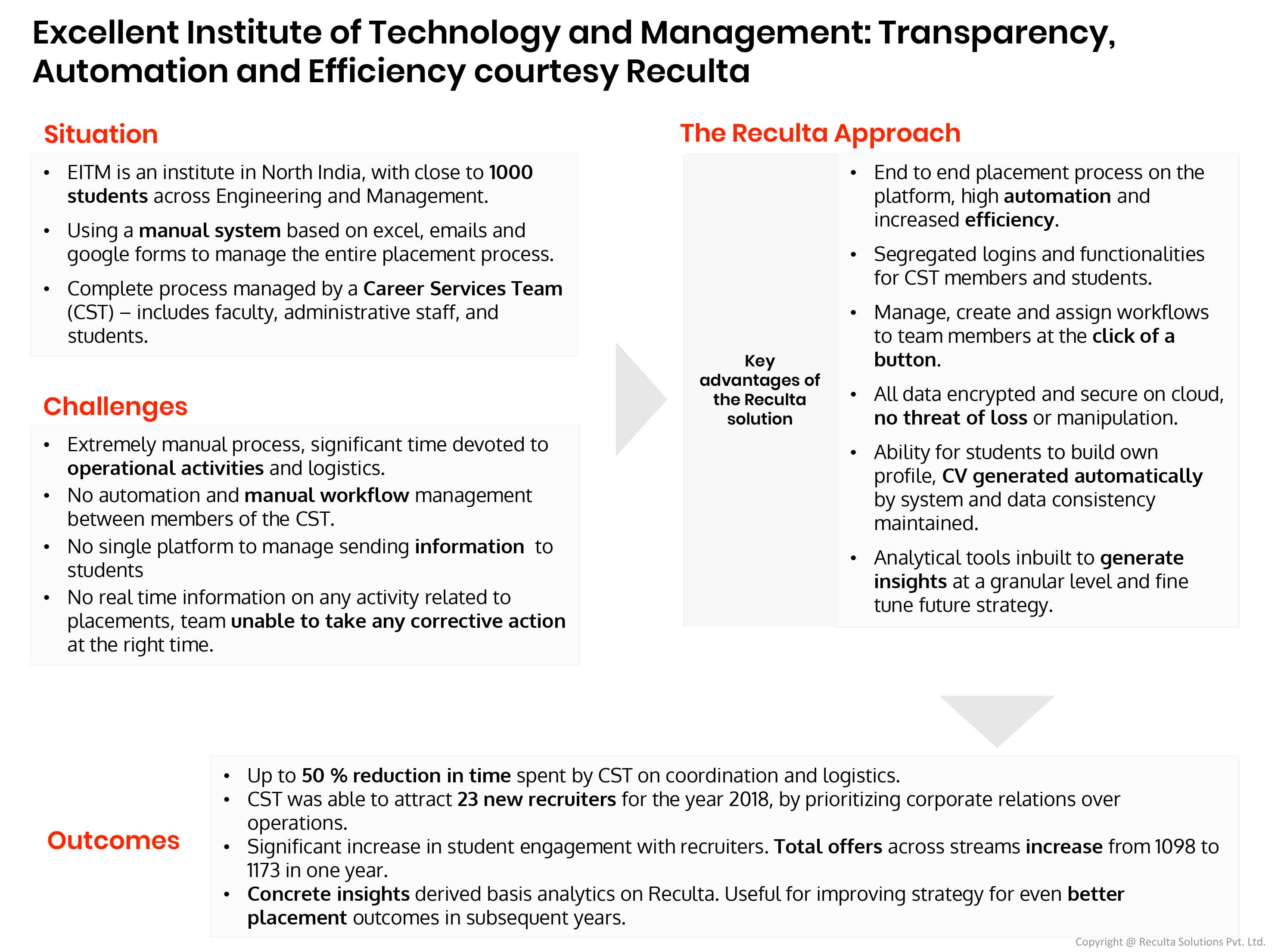 Introduction
Excellent Institute of Technology and Management (EITM) is a higher education institute in North India, with close to 1000 students across batches in streams of Engineering and Management. Placements at EITM are a biannual exercise, with students from Engineering sitting for the internship process in their prefinal year and final placements in their final year. Students from Management sit for their summer internships in their first year and final placements in their second year. The complete process is handled by a Career Services Team (CST) that comprises of faculty, administrative staff and students.
Hurdles
Till 2017, EITM was using a manual system to manage all the placement related activities. These included – Pitching to recruiters, arranging recruiter events on campus, collating and verifying student data, student trainings, opening applications and sending applicant data to recruiters, recording final offers, generating the placement report. The major hurdles faced by the CST were as follows:
Extremely manual process, with all data and workflow being managed via excel sheets, google forms and emails.
Significant amount of time being spent on collecting, collating, cleaning, and verifying student data.
Extremely cumbersome allocation of tasks to team members. Essentially no workflow management.
Information updates to students being lost in a trail of mails over time.
No real time updates on status of any and all activities related to the placement process.
Reactive, rather than proactive resolution of any issues faced in either the run up to or during the actual placement process.
Reculta
On discovering Reculta and learning about the work being done by the company with other institutes, EITM management decided to partner with Reculta to address the hurdles and streamline its campus placements. Reculta's platform for institutes offered EITM a solution to all these problems, with the institute deriving benefits as follows:
Segregated logins and user roles for members of the CST, students and EITM management.
Ability to manage and assign workflows within the CST at the click of a button.
All confidential and transactional data encrypted and secure on the cloud, free from any threat of loss or manipulation.
End to end placement process management for all the students.
All information and updates to student in one single feed, with no clutter at all.
Ability for students to create own profiles, with data verification and an automated Resume generator built within the system.
Detailed analytics and insights at institute, recruiter and even student level post placement process to fine tune strategy for next cycle.
Results
Across the placement process in 2018, EITM managed all activities on Reculta. The results derived by the institute are highlighted below:
The CST saved up to 50 % of their time spent earlier on just coordinating and managing activities related to placements.
CST was able to spend this time in nurturing relations with corporates. They were able to attract 23 new recruiters in 2018.
All information relevant to placements being available in one single place, student engagement and involvement was much higher. This directly translated into EITM recording its highest number of offers ever per student. The institute received 1173 offers for its students sitting for final placements across streams. The same figure for 2017 stood at 1098 offers.
CST was able to derive concrete insights from the analytical tools available on Reculta, which are already being used to fine tune strategy for the next placement season.
Go back