Institute - Case Study 02
The name of the institute in this case study has been deliberately changed. This has been done to maintain our client's privacy and the confidentiality of their placements related data.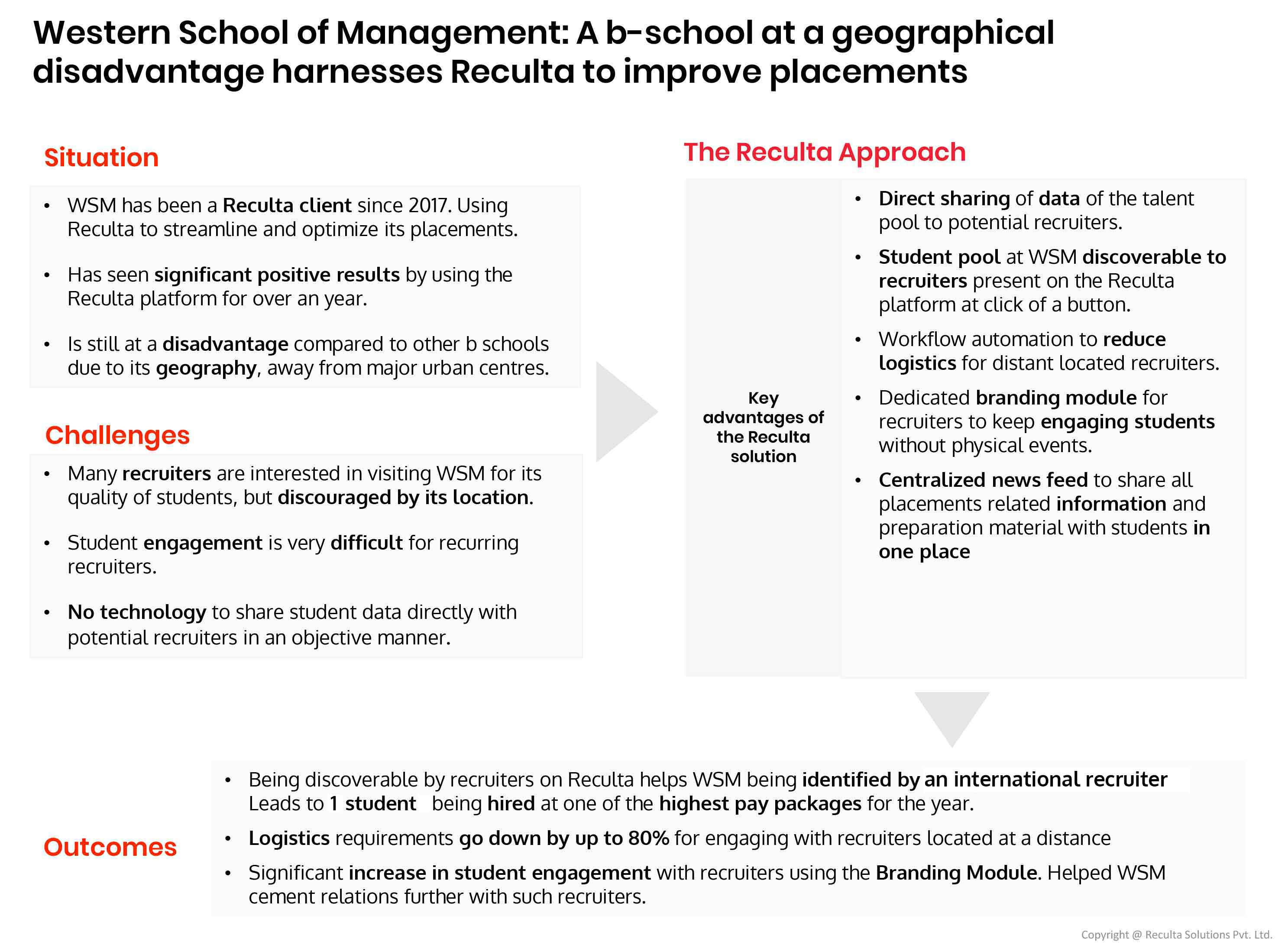 Introduction
Western School of Management (WSM) has been a client of Reculta since 2017. They have been running their campus placements on the Reculta platform successfully for 2 placement cycles as of date.
Hurdles
Most of the hurdles faced by WSM in terms of their placement process were ironed out within the first year of implementing Reculta Check out this case study to learn how another institute derived tangible results using Reculta (You can read that case study HERE). However, some points unrelated to the placement process per se remained:
WSM is located in a region that is significantly distant from major cities, where a majority of its recruiters have their offices.
This geographical isolation resulted in recruiters being less forthcoming about visiting WSM for campus placements.
For the recurring recruiters, visiting WSM for student engagement was again very cumbersome and many avoided it, resulting in reduced interest from students' side
A lot of potential recruiters did not want to engage with WSM due to its location and preferred hiring from other institutes in their vicinity.
Reculta
Having implemented Reculta already, WSM now sought to leverage the other functionalities available on the platform to offset its geographical constraints. Some of these were:
Database sharing with key potential recruiters to attract them for campus placements.
Discoverability by recruiters already present on the Reculta platform.
Branding module for recruiters to engage with students remotely.
Sharing all placements related information and preparation material with students using the centralized news feed.
Workflow automation with Recruiter to reduce logistics.
Results
WSM was able to utilize the additional functionalities offered by Reculta to offset its geographical disadvantage significantly. In terms of results, WSM was able to achieve the following:
Discoverability of WSM on the Reculta platform helped it in being discovered by multiple recruiters who had not engaged previously. An international recruiter was able to discover WSM through Reculta and successfully recruited one student with one of the highest pay packages for that year
WSM was able to manage 80% of the logistics requirement with recruiters located at a distance. Recruiters had to visit WSM in person only for the final interviews.
Recruiters using the branding module on Reculta were able to engage with students with ease without the need for any travel or organizing events. This translated directly into students showing more interest in these recruiters, which in turn cemented their relationship with WSM for future campus placements.
The centralized news feed at the student end was critical in keeping students informed about events related to placements. The news feed was also effectively used to share all placements related preparation material with students via one central medium.